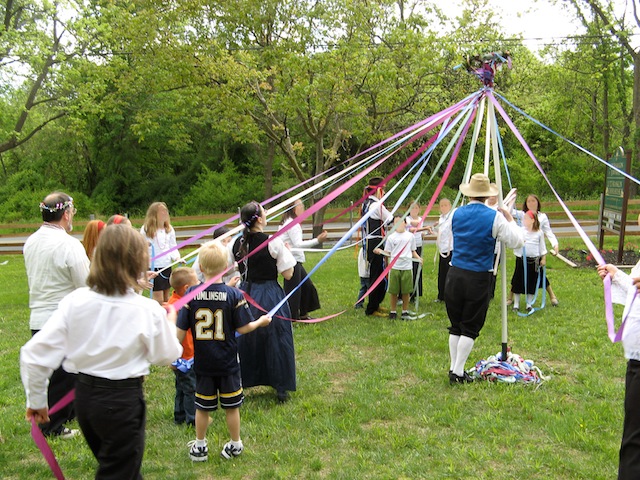 IMPORTANT NOTICE: The Germantown Country Dancers board has regretfully decided to cancel our Wednesday night dances through the end of April in addition to our First Saturday workshop and dances in April and May and the April Barn Dance, on account of the spread of COVID-19. It's been a tough decision but it seems like the best choice for our community and also for the larger communities we all belong to. We will keep you updated about our plans on the web-site and periodic e-mail updates.
In the spirit of service to our dance community and beyond the GCD board has decided to make partial payments to our musicians, callers, and venues up until the end of May whenever cancellations are deemed necessary. Please note that we cannot continue partial payments beyond the end of May.

--The Germantown Country Dancers Board
From our parent organization, CDSS:
Our dance, song, and music traditions will not go away if we need to hit the pause button for a while. They've made it through population migrations, world wars, and the rise of digital entertainment. Dancing and singing together will continue with gusto after the initial virus has run its course. Be kind and understanding with the dancers, singers, musicians, callers, and organizers around you.
Click here for more information from CDSS.
English Country Dancing is social, community dancing, where one of the pleasures is interacting with everyone in the room. New people are welcome any time, and you don't need to bring a partner.
Dances and Events
When?
What?
Where?
Wednesdays
7:30 pm – Arrive for beginners' orientation to basic figures
8:00 pm – 10:15 pm English Country Dancing
Members $7, non-members $8, under 30 years old $4.
Merion
First Saturdays
(October – May, for intermediate and experienced dancers.)
3:00–5:30 pm – Afternoon Workshop (see schedule)
7:30–10:30 pm – English Country Dance
Afternoon $9, Evening $10, Both $16.
GCD and CDSS Members: Afternoon $7, Evening $8, Both $12.
Under 30: Afternoon $4, Evening $4, Both $8.

Mt. Airy
Barn Dance
First Sundays
(November – April)
2:00–3:30 pm – Old time fun for all ages.
Adults $5, kids 4–18 $2 ($15 max.)
Mt. Airy
Teen Dance
Second Fridays
(September – May)
7:30–10:00 pm – Contra and Barn Dances for teens (ages 12-19).
Admission: $5
Mt. Airy
Details
Dance to live music every evening! No partners needed, friendly folk will ask you to dance. On Wednesdays and at Barn dances, each dance is taught.
First Saturday events: Please wear flat-soled shoes. Saturday dance programs are more difficult than on most Wednesdays (especially the afternoon workshops). The programs are intended for dancers who know standard figures, such as casts and leads, siding, single and double figures of eight, and all manner of heys.
For more information on the teen dances see the teen website.
Venues
Germantown Country Dancers holds dances in two locations:
Merion Friends Activities Building
615 Montgomery Ave, Merion, PA 19066 (on the Main Line)
Summit Presbyterian Church, Westview & Greene Streets, Philadelphia, PA 19119 (in Mt. Airy)
Maps & directions
Join us!
Benefits of membership:
Discounts to most GCD-sponsored dances and workshops and to the ball
Guaranteed admission to the December Playford Ball, if you (re)join by October 15, and register by November 2.