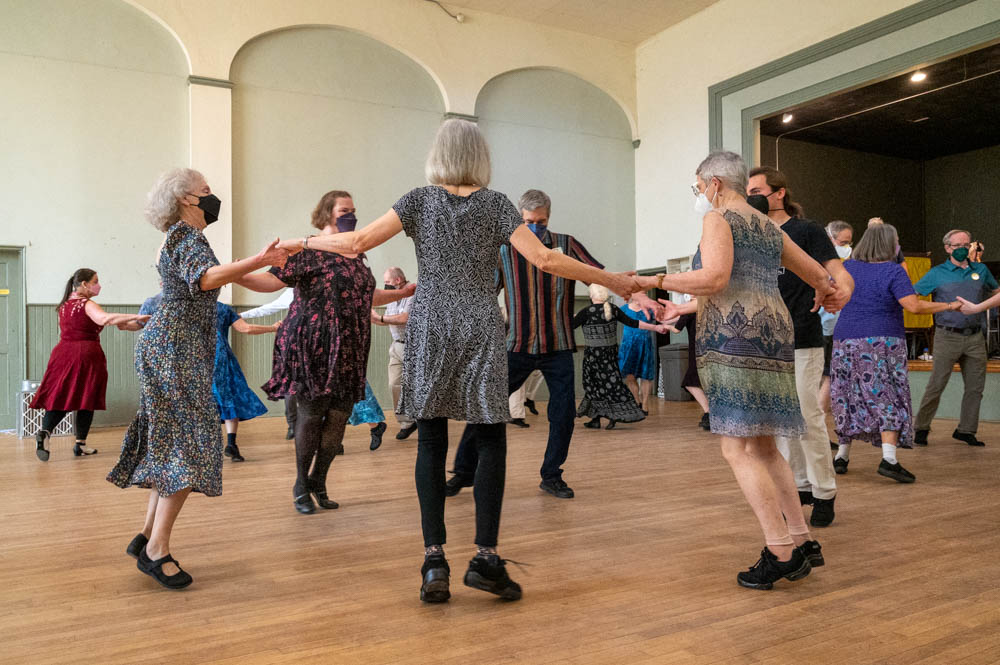 What's happening?
Updated COVID guidelines
The Board of Germantown Country dancers announces relaxed COVID-related safety requirements. These new precautions are in response to changed circumstances, the recent survey on our community's thoughts and input from medical professionals. The Board reserves the right to further change these protocols if our understanding continues to evolve.
Highlights:
No Proof of Vacination
Waiver and Contact Tracing Still in Effectz
Masking Requirement Variable
Requirements for events:
Wednesdays:

1st, 3rd, and 5th--masks required
2nd and 4th--masks recommended but not required

Barn Dance masks optional
First Saturdays--masks required
Playford Ball--masks required
New waiver and detailed guidelines will be forthcoming.
---
The December 2, 2023 Predominately Playford Ball
The Ball Program List with video links is now posted. Registration details to follow. Dances will be taught on Wednesdays, and also on the afternoon of Saturday, November 4th.
---
1st Saturday, October 7th
Afternoon Workshop & Evening Dance with Orly Krasner
Music by A Joyful Noise -- Kathy Talvite, Barbara Greenberg, Daniel Beerbohm

details anon...
---
---
Regular Dances and Events
Before you come...
On Wednesday evenings and at the Mt. Airy Barn Dance, new dancers are always welcome! Each dance is taught, then prompted. You don't need to bring a partner, as we change partners throughout the session. Friendly folk will ask you to dance. English Country Dancing is community dancing, where one of the pleasures is interacting with everyone in the room.
Please wear flat-soled shoes.
** First Saturday workshops and evening programs are more difficult than on Wednesdays. The programs are intended for intermediate and experienced dancers who know standard figures, such as casts and leads, siding, single and double figures of eight, and all manner of heys.
Venues
Germantown Country Dancers holds dances in two locations:
Merion Friends Meeting Activities Building 615 Montgomery Ave, Merion, PA 19066 (on the Main Line)
Summit Church, Mt. Airy, Westview & Greene Streets, Philadelphia, PA 19119

Join us!
Do you appreciate the events GCD sponsors for dancers and musicians? For a small amount, you can become an Official Member of this great organization! (With the side-benefit of guaranteed Ball admission if you register in time.)